A PLACE TO BELONG & BECOME
If you've ever fallen short, had major successes, had colossal failures, know very little about God or know the Bible like the back of your hand, been burned by a church or love all that an intimate church family brings...
A place to belong and become. ​
​
At Westbrook, we want you to arrive and be fully accepted as you are, but hope you'll leave inspired to be all that God has for your life.
​
We are not a perfect church, but we serve a perfect God who loves us wherever we are in our lives. Come, be loved unconditionally and become a part of the Westbrook family.
​
​ Dive into all Westbrook Community Church has to offer whether you are single, married, have children or not. We offer many opportunities to grow in your faith, connect with others and to serve God.
"IT'S AMAZING WHAT GOD WILL DO IF YOU JUST PUT DOWN WHAT YOU THINK YOU SHOULD BE DOING, PUT ASIDE THE THINGS THAT THE WORLD TELLS YOU TO DO, AND IF JUST GIVE SOME TIME TO GOD AND WATCH HIM GO TO WORK."
TOM M. / CONGREGATION MEMBER
"I THINK SMALL GROUPS ARE ONE OF THE BEST THINGS WESTBROOK DOES BEST. I LEARNED LITTLE GEMS OF INFORMATION, LIKE THAT GOD-FEARING DOES NOT MEAN BEING AFRAID OF GOD, BUT RATHER TO BE IN AWE OF GOD."
JEFF C. | CONGREGATION MEMBER
"ON MY JOURNEY TO FIND SOMETHING IN A DIFFICULT TIME IN MY LIFE, I FOUND MORE IN WESTBROOK [SIC] THAN I COULD HAVE EVER IMAGINED. I FOUND A SAFE PLACE. I FOUND ACCEPTANCE. I FOUND HEALING. I FOUND A GRACEFUL PLACE."
STACY V. | CONGREGATION MEMBER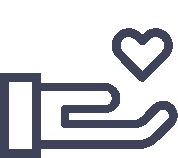 "Each of you should give what you have decided in your heart to give, not reluctantly or under compulsion, for God loves a cheerful giver." SEE OUR BUILDING PROGRESS
We are in the process of building our permanent new home, located in Victoria, Minnesota. Click below to see the construction progress.